Swipe to the left
Starting the New Year Off Right
I know it's so cliche to join a gym or start eating healthy again at the beginning of January. But what if you didn't stop being healthy? It's important as parents to teach our kids good habits, like brushing your teeth three times a day or getting plenty of exercise, but for me one of the most important is sugar! Yes I love sugar, especially chocolate! But it's highly addictive and I know from experience, it will make your kids go mental, especially if they are not use to it. It is inevitable that at one point sugar will come into play, why start them off on it? I started researching healthy sweet recipes for kids and found quite a few that sounded super delicious. I wanted to find one that I could enjoy as well. We like muffins at our house so I decided to make cinnamon apple muffins and boy were they good! I thought it would be great to share the recipe with you today.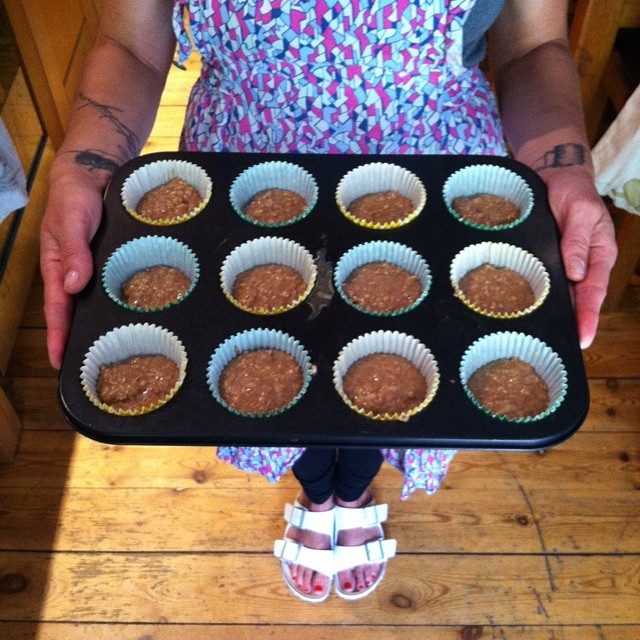 Apple Oatmeal Muffins Adapted from Coookie and Kate's Muffins
INGREDIENTS
1¼ cups whole wheat flour
1¼ cups old-fashioned oats
1 teaspoon baking powder
½ teaspoon baking soda
¼ teaspoon salt
½ teaspoon cinnamon
⅛ teaspoon ginger
1 cup unsweetened applesauce
1 tablespoon honey
½ cup light coconut milk with the juice of half a lemon (or low fat buttermilk)
2 tablespoons melted coconut oil
1 large egg, lightly beaten
½ teaspoon vanilla extract
2 small Gala apples, chopped into small pieces
INSTRUCTIONS Preheat oven to 180 degrees. Line a 12 cup muffin tin with muffin wrappers or spray with nonstick cooking spray. My non-stick muffin tin works so well I didn't need either. In a large bowl, combine flour, oats, baking powder, baking soda, salt, cinnamon, and ginger. In a medium bowl combine applesauce, honey, buttermilk, oil, egg and vanilla extract. Make a well in the dry ingredients and pour in your applesauce mixture. Stir until just moist. Fold in the chopped apples. Fill muffin cups ⅔ to ¾ full. Bake for 16-18 minutes.