Swipe to the left
Slowly starting to be a family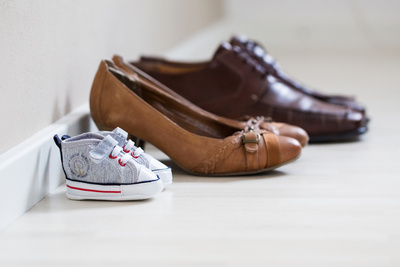 After giving birth, the journey continues in this exciting new life . From now on we parents are responsible for a new life. A baby needs time to come in this world and find their way around . However, parents can accompany supportive , but ultimately time will tell. And even if the first few weeks might be challenging , a baby learns incredibly fast and incredibly much . Throughout all this time the most important thing is to give love and security .
When it is possible the parents should alternate. One asleep, one takes care of the child . Search reliefs , accept help . Nobody has to do everything alone . In the exciting new period it´s just the parents and the baby that counts, everything else is secondary .
After a few months, everybody have become accustomed to each other and the common journey of discovery really starts . Hands, feet, hair, suddenly everything is exciting . Things can feel cool, warm, wet or dry . A baby learns to understand the environment . And we parents? We learn it all over again. We suddenly are afraid of the tiny things, hear noises everywhere, fear danger around every corner. At the same time , we suddenly do the biggest nonsense, have incredible patience and forget the world if the baby smiles at us. Isn´t this clever designed by nature? It ensures that we grow together, slowly but steadily to be a family one day . Unnoticed, bit by bit, but always solid .
How about you ? When did you had the feeling that you grew together as a family? We look forward to your comments .
Foto: JMG / pixelio.de