Swipe to the left
November 2016
With the clocks going back and temperatures plummeting, it's time to admit that winter is on its way. Soon we'll all be reaching for scarves and umbrellas instead of flip flops and sunglasses. But the arrival of winter doesn't mean that we ethical consumers should neglect our sense of style — for us and our children! Sense Organics is here with a guide to ethical children's clothes for the colder months.
Organic cotton baby clothes for the winter
Dressing your baby in winter means thinking about layers. The general rule is to dress your baby in one more layer than an adult would be comfortable in. Whether you are indoors or outdoors, layering organic cotton baby clothes is a must, and adding accessories can be great for changing temperature conditions. Putting on an organic cotton hat is perfect for car journeys or other trips that start cold and get warmer.
When layering up, you should think about adding a sweatshirt. Our boys wolf print sweatshirt is perfect for keeping your little one cosy while adding some winter style. For a long-sleeve top that's ideal for layering, our girls organic cotton navy t-shirt will go with anything and keep your baby warm. A snowflake design makes it the perfect addition to a winter wardrobe.
For an even more versatile option, our reversible wrap jacket offers the fashion-conscious parent two options depending on the rest of the outfit. Go for the plain side when layering, or bring out the polar bear print for guaranteed cuteness. We think choosing organic baby clothes should also mean you are spoilt for choice.
Fair Trade children's clothes: t-shirts and tops
The staple item for any season is the classic t-shirt. With winter on its way, it's time to think about stocking up on tops for layering — and for those cosy duvet days when a coat is too much.
Animals we associate with the cold, like penguins, polar bears and reindeer, are firm favourites among children — and adults, too! Our boys long-sleeve shirt with penguin motif will steal the spotlight, and our long-sleeve penguin print t-shirt will make your girl look at home in even the most formal family photos.
Arctic prints are all the rage this season and repeated graphic designs are the perfect statement piece. Keep the rest of the outfit simple and let the penguins and polar bears do the talking!
Organic cotton jackets and jumpers
For the chilliest days spent jumping in puddles and kicking leaves, an organic cotton coat is the ideal choice. Combined with a good pair of wellies and some organic cotton trousers, your child can enjoy the best of winter in supreme warmth.
This adorable teal raincoat is one of our favourites. The stylish polar bear print is sure to appeal to your little one. It's the perfect example of water-repellent, stylish and ethical children's clothing. Staying dry has never looked so cute!
The classic Christmas jumper has returned with a bang in the past few years, and now your kids can get in on the act. Our Norwegian-style navy sweater is bold, practical and perfect for festive family photos. The snowflake design will have you wishing for snow! What's more, it's made from 100% organic cotton, which is environmentally and socially friendly.
Ethical children's clothes: sleepwear
Ethical children's clothing doesn't stop when it reaches bedtime. Sense Organics offers a range of organic children's clothes for the small hours, including a classic
blue and white striped pyjama set
, complete with a reindeer motif. The two-tone design and iconic winter colour scheme mean your little one can drift off to the land of nod in style.
And for a design that little girls will love, check out our berry red, penguin-patterned pyjamas. The soft organic cotton will have her sleeping in comfort during the chilly months. Choosing Fair Trade kids clothing also means that cotton farmers get the best price for their crops, so you can sleep easy knowing that you've done your bit.
To browse the entire range of ethical children's clothing from Sense Organics, view our product pages. We've got the garments to keep your little ones warm, cosy and safe from harmful chemicals.
Buying organic baby clothes is beneficial for a number of reasons. Garments made from organic cotton are soft, hypoallergenic and free of any nasty chemicals. So when it comes to cleaning these garments, it's easy to feel apprehensive about damaging the soft fibres. If you're not sure where to start, have a look through our expert guide to washing and caring for organic baby clothes.
How to wash and dry organic baby clothes safely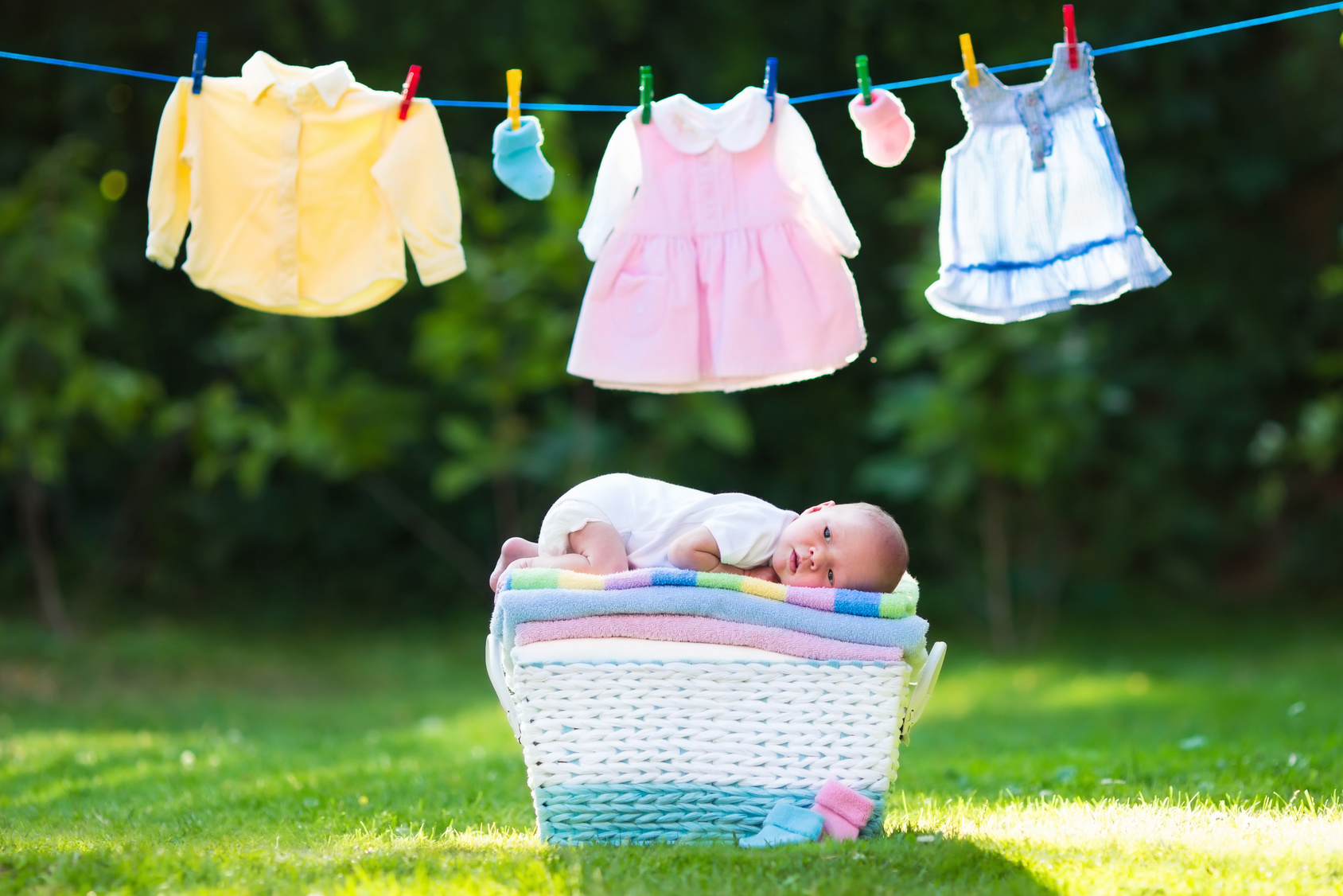 Conventional textiles are treated with chemicals to prevent shrinkage. As organic baby clothes are chemical-free, we'd suggest washing on a low heat to keep the shape. A 40°C cycle will remove stains and also save energy, which is good for the environment.
Avoid powerful washing machine detergents, as they are packed with harmful chemicals. Not only are these bad for your little ones; they'll also degrade the fibres and dyes in your organic baby clothes. Opt for a mild, eco-friendly washing detergent. If you previously used a non-eco detergent, put your empty washing machine through a rinse cycle before washing organic garments.
Drying organic baby clothes at a high temperature will also lead to shrinkage, so air dry where possible. If you're in a rush, run your tumble dryer on an air cycle which uses no heat. Fair Trade children's clothes
shouldn't cost the earth, so making your washing and drying routine more eco-friendly is good for everyone.
Removing tough stains using eco-friendly methods
When organic baby clothes become stained, it's easy to panic. You don't want to use harsh chemicals to remove the stains, so how should you do it? There are a few tricks to eco-friendly stain removal, depending on the nature of the stain.
For food and drink stains, such as tomato sauce, try pouring boiling water over the stain. Don't soak the whole garment, because this could lead to shrinkage.
If that doesn't work, or if the stain is oil-based, try applying baking powder to the stain. Let it absorb into the fabric, then brush the stain gently with an old toothbrush. Once the stain is dry, apply some eco-friendly dish soap and let it soak in, before placing the garment in a bowl of lukewarm water.
Putting the garment through the washing machine
afterwards
should completely remove the stain. If it doesn't, repeat the process until the stain disappears. For the toughest stains, look out for eco-friendly stain removal liquid that is suitable for organic cotton.
Can I wash organic cotton baby clothes with other items?
Non-organic clothing is made with pesticides that are linked to impaired brain development in foetuses and infants. As a result, we advise that you wash organic baby clothes separately, or with other organic garments. The chemical residue from non-organic cotton can jeopardise organic baby clothes. If you're worried about wasting water by doing lots of smaller washes, many washing machines have a "reduced load" option that you could use. Hand-washing by using an eco-friendly detergent is another choice for those times when you are between washes.
Caring for organic cotton baby clothes makes them last longer and ensures they remain safe for your little ones. Getting into a routine of harm-free washing will be better for you, your baby and the planet. The benefits of buying ethical children's clothes shouldn't stop when it comes to washing time!
Reducing your baby's exposure to harmful chemicals is precisely why Sense Organics exists. To find the perfect clothing for gentle skin, browse our huge range of soft organic baby clothes